Rochedale Display Homes Village Review
The Arise Display Village in Rochedale showcases the display homes of 12 Queensland Builders. If you're looking for inspiration you'll find plenty of Hampton style designs, a handful of narrow block designs and contemporary modern and coastal homes. Arise only features 2 single storey designs in their line up so unless you're just going for some inspo this probably isn't the village for you.
Valcon Homes
Valcon Homes have one home on display at Arise. It's their double storey Sandgate 336. This design is a 4 bedroom 3 bathroom home meant to accommodate family living. With a split living design, it keeps all the bedrooms upstairs leaving the downstairs for entertainment and living areas. The display home features a pool area to give you an idea of how the home flows into an outdoor living area.
Metricon
Metricon have 4 display homes at arise. All of which are double storey. The first of these display homes is the Lucca 35. This home has 5 bedrooms, 2 bathrooms and 2 garage spaces and is able to fit on a block as narrow as 10m wide. This house is labelled as being great for large families due to its surprisingly spacious and number of bedrooms, one of which is a master suite. This design also manages to fit in 3 indoor living areas and an outdoor entertaining room.
The Glendale 39 is another double storey Metricon design sporting 4 bedrooms, 2 bathrooms, and 2 garage spaces. Designed with family living in mind the master suite is located to the rear of the home and is separated from the 3 other bedrooms by the secondary upstairs living room, study space and the main bathroom so privacy has been taken into consideration. The downstairs is living focused with an open plan kitchen that connects to the outdoor entertainment space via large folding doors.
The Waterford 51 has 5 bedrooms, 3 bathrooms and 2 garage spaces across its double storey design. This design is focused around 3 internal living rooms leading towards a large master suite that spans the entire width of the home. This design offers plenty of segmented living spaces with 2 dedicated living and leisure rooms and a downstairs rumpus room. In line with modern design principles, the downstairs dining area is located right next to the outdoor living space.
Metricon's final home on display is the Doulton 46. Their most luxurious of the homes on display at Arise this design has 5 oversized bedrooms all with their own walk in robes, and 3 which have their own ensuite bathrooms. The centre of the home is a sweeping staircase that greets you as you enter the home. Being their biggest home on display it features an open and flowing downstairs kitchen and entertaining areas next to family and rumpus rooms. The master suite is secluded from the rest of the house and spans the width of the upstairs front of the house.
Want to know more about Brisbane Builders?
Read our ultimate guide with indepth reviews here
Madison Homes
Madison Homes have one home on display at Arise; The Hamilton. This is a double storey home with 5 bedrooms, 2 bathrooms and an ensuite and a 2 car garage. The downstairs area is dedicated to living spaces with all the shared living and dining spaces connected. This allows for flexibility in both how you chose to use this space but also with adapting the floorplan to suit your lifestyle. The finish of this home is very contemporary with features such as ranked ceilings, large windows and an upstairs wet bar.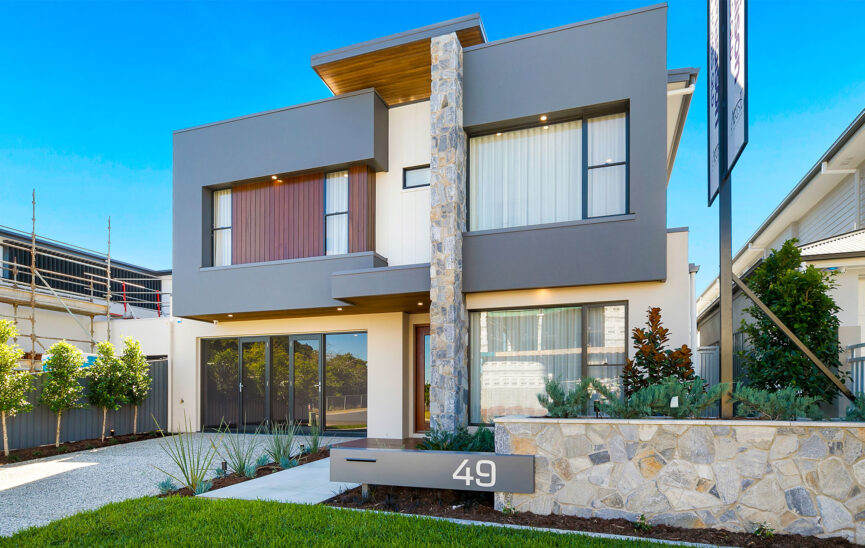 Coral Homes
Coral homes have 2 display homes at Rochdale Arise one of which is the first single storey home of the list. The Noosaville 25 is a 4 bedroom, 2 bathroom home is designed for coastal living with plenty of open space to let in the breeze and natural light. Coral Homes pitch this home as an affordable family home and its enthesis on multiple bedrooms mean there's plenty of room for a growing family. The design sits at about 220m2 so its not huge but manages to fit in a complete family home.
The Baltimore 38 is Coral Homes second display home is a double storey 4 bedroom 2.5 bathroom design was downstairs open plan living and upstairs leisure space and bedrooms. This 328m2 home uses the entire rear of the design for combined in and outdoor living spaces. The Baltimore is also customisable with the option to add; a media room, guest bedroom, a 5th main bedroom or even move the master bedroom to the rear of the home.
Chelbrooke Homes
Chelbrooke Homes have 2 homes on display at Rochdale Arise both of them suitable for narrow blocks. The first of them is the Riviera. The Riviera is a double storey design that has 5 bedrooms 3 bathrooms and a 2 car garage. With a width of 11.45m, this design is suitable for narrow blocks without compromising on different living spaces. Despite its narrow width the design manages to fit in, a family room, a dining room, a kitchen with a butler pantry, a guest bedroom, a bathroom, and a media room into the ground floor. This leaves the upstairs for a secondary lounge and the 4 other bedrooms. It's a narrow lot design without some of the usual pitfalls.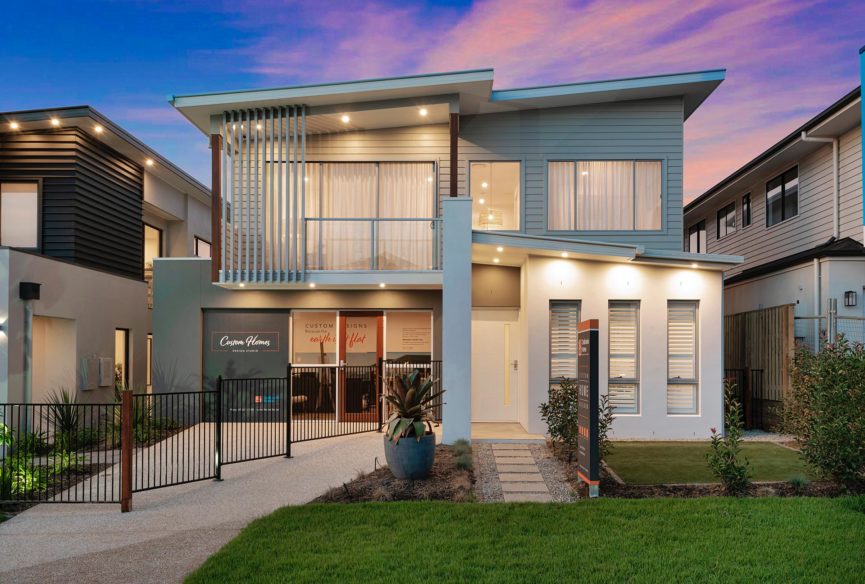 The second Chelbrooke Homes display home is the Aurora. This is a home suitable for very narrow blocks with a 8.7m frontage. This is the narrowest home in the estate. Despite its narrow frontage this design manages to fit in 4 bedrooms, 3 bathrooms, 2 living areas, a media room and a 2 car garage. This design also doesn't compromise on separated living to give the master bedroom privacy as it's located on the other side of the home from the 3 other bedrooms and spans the width of the home. Downstairs is dedicated to a modern open plan living and dining area that flows into an alfresco area.
Brighton Homes
Brighton Homes have 3 display homes at Arise Rochdale, the first of these is the Grayson 30. This double storey design has 4 bedrooms, 2 living rooms, 2 bathrooms and an ensuite, as well as a 2 car garage. This 279m2 design is a bit cramped with the only spaces upstairs occupied by bedrooms and a very small study nook. The downstairs is an open plan merging your living and kitchen spaces together. However the dedicated entertainment room is quite small and right next to the front door, not offering much privacy.
If you're looking for Hampton style inspiration, we recommend checking out the Grayson its got all the hallmarks of classic Hampton facades and designs.
The Kenzie 26 is a 244m2 single storey design with 3 bedrooms, an open plan living space, and 2 bathrooms. This design completely separates the living and bedroom areas of the house in an unusual way. The house opens up to an open plan living area with a within the house outdoor living space. In the very centre of the house is a small activities room wedged in next to the outdoor living. At the back of this activities room is the only door that leads to the secluded accommodation area. While this design may fit a lot into a single storey the 3 bedrooms connected by a tight corridor might make people feel a bit on top of each other if looking for some privacy.
The Aria 37 is a 344m2 modern looking double storey design with 5 bedrooms, 3 living spaces, 3 bathrooms and a 2 car garage. Downstairs is designed for entertainment and hosting guests with an open plan kitchen and a guest bedroom. If you don't have the need for a downstairs guest bedroom this design allows you to change it into a study or library area to better suit your lifestyle. While the corridor that leads into the home is narrow this is done to make room for an entertainment room and the guest bedroom before you reach the family and dining areas at the rear of the home. The upstairs is where the remain 4 bedrooms are found and there is enough space to also fit in an activities room.
Ownit Homes
Ownit Homes have 2 display homes at Arise Rochedale, the first is their Cityview with optional roof terrace design. This is a home designed with entertaining in mind. The Cityview has 5 bedrooms, 3 bathrooms, a 2 car garage and 2 living spaces. On top of this and its most distinctive feature is the rooftop terrace. Designed to maximise living space the rooftop terrace is Ownit Homes' solution to the limitations of block size in inner-city areas. Usually, people either love or hate the idea of a rooftop terrace so if it's something you're on the fence about we recommend having a look at the Cityview to form an opinion.
The Aspen by Ownit homes is a 383m2 resort theme double storey home with 5 bedrooms, 3 living spaces, 3 bathrooms and 2 car garage. The upstairs is designed to create a feeling of luxury with ranked ceilings and chandeliers leading you past the lounge that opens up to a balcony and towards the master suite. As with most contemporary homes designs, the downstairs is centred around an open plan kitchen and living area that opens up to an alfresco outdoor area.
Heisig Constructions
Heisig Homes have one display home at Arise Rochedale; the LUXE on Grand it's a custom build new age Queenslander. Being a strictly custom builder Heisig have designed this home to showcase their style. This split level design features high ranked ceilings that give the downstairs area a grand luxurious feel. In union with the downstairs stone cladding fireplace, this area has a warm and homey feel despite its size. The upstairs has been reserved for bedrooms; including a master suite with a large walk-in robe and ensuite with a free-standing bath. The space above the staircase has been felt open to continue that feeling of openness and prevents the upstairs from feeling enclosed. If your looking for inspiration on how to make your home feeling classic yet spacious the Heisig LUXE on grand is worth a look.
Porter Davis
Porter Davis have 2 display homes at Rochedale Arise. The first is the 343m2 double storey The Mont Albert Grand 56Q. This design has a connected feel to its upstairs living space sharing a ceiling with the downstairs kitchen area over-looking the downstairs from an indoor balcony. Featuring 5 bedrooms, 5 bathrooms, 4 living spaces, a study and a 2 car garage this home is described as where royalty would live in Australia in the modern age. With luxury features such as a spiralling staircase that greets you as you enter the home. Its large lone standing kitchen benchtop creates an open feel to the downstairs area complimented by its high ceilings. The impressively sized master suite takes up the entire northeast wing of the home with its large walk-in robe and ensuite. This doesn't come at the expense of the other upstairs bedrooms, however, as they all have their own ensuite's and walk-in robes as well. If you're looking for luxury inspiration The Mont Albert Grand is worth a look.
The second Porter Davis display is their Sheraton Grange 54; a 308m2 double storey design with 4 bedrooms, 4 bathrooms, 4 living spaces and a 2 car garage. This is another home design to look at if you're after Hampton style inspiration. The home has 2 outdoor areas, a downstairs alfresco area and an upstairs terrace balcony offering spaces for private relaxation. The large master suite spans the width of the top floor and features 2 walk-in robes. This enthesis on storage space is shown in the other bedrooms as well as all bedrooms in this design have walk-in robes.
Hotondo Homes
Hotondo Homes have 2 displays at Rochedale Arise, the first is a coastal design double storey home called the Lorne 297. This design is 297m2 and has 4 bedrooms, 2.5 bathrooms, and a 2 car garage. With an enthesis on family living it's got a dedicated kids rumpus area and a private master bedroom on its own side of the house. Downstairs is all focused on living and eating with a large corner kitchen area that leads onto the family and alfresco area. If your looking for some inspiration on coastal designs the Lorne is worth having a walk around even if your not building a double storey.
The Calva 303 is a Hampton stye double storey home with 4 bedrooms, 2.5 bathrooms and a 2 car garage. This 302m2 design features a generous double benchtop kitchen and large butlers pantry designed for entertaining as it flows out to the living and alfresco areas. The living spaces are separated with all 4 bedrooms located upstairs. The master suite has a walk in robe that leads through to the master ensuite bathroom. There is a small powder room and toilet downstairs however the main bathroom is located upstairs near the remaining bedrooms. The design does have an open feel to it with the back of the homes visible from the front door.
Shroud Homes
Shroud homes have one display home at Arise Rochedale, the Asher 290. This home is a 290m2 double storey design suited to a narrow block with a width of only 9.25m. This spacious narrow block design manages to fill the home with a good mix of privacy and open plan areas. Downstairs is centred around a contemporary open plan living, dining and kitchen area that flows out to an alfresco area. Amongst the downstairs is a private media room that manages to detach itself from the rest of the downstairs space. Upstairs is focused on bedrooms with the entire width of the front of the home occupied by the master bedroom and it's street-facing balcony. The colour selection at this display home does make the design feel a bit boxed in though with their use of dark coloured feature walls throughout.
IDH
IDH have one display home at Arise Rochedale; The Bespoke. The custom builder set out to design a home suited to the block of land at Arise so this display is there to show the workmanship of IDH and is not an off the plan design (something IDH don't offer). The house they have built is a double-storey Hampton style with 4 bedrooms, 2.5 bathrooms and a double car garage. The finish here is luxurious showing off some of the high-end features such as a floating staircase and a free-standing bath in the main bathroom. The use of louvre windows here is great so if you're looking for louvre inspiration it's worth a walk around. Taking full advantage of the block the home flows from the front door to alfresco in one open corridor with high ceilings and plenty of natural light.