What is a single-storey home design?
A single storey home design is any house that consists of just a single, ground floor. While it may seem pretty simple, there are a lot of single storey home plans out there. They come in a wide range, from smaller homes to family homes to acreage houses.
Single-storey homes can suit a wide range of budgets, from first home-buyers to families to those looking for a luxurious house, there is a single storey option to suit pretty much every budget and lifestyle. Modern layouts tend to focus on open living, with the kitchen, dining area and living area flowing into one another.
Single storey house designs are among the most common out there and examples can be easily found at display centres. This is an opportunity for you to see what your favourite home design will look like in person.
In this article, we're giving you some tips and things to consider when building your dream home and whether a single-storey house is for you.
Single-storey home Designs Considerations
There are a few things to consider when deciding whether a single-storey home is ideal. Block sizes (or lot width) are a big factor to think about with any house plan, but especially when it comes to how big your single-storey house can be. Without the option of building up, the bigger your home is, the less of your property you have remaining for other features, like a pool, garden or outdoor entertaining area.
With the above in mind, think about where you want to buy land and how much this will set you back (especially if you need a bigger home). If you're buying a block in an expensive suburb, the smart play could be to buy a smaller block of land and then build a double-storey home.
Quality single storey homes are great for open plan-living and creating a spacious feeling to a home. Good single storey home designs create spacious living zones and large windows to bring in the surrounding environment.
As with any layout decision, it's best to take your lifestyle and needs into account. Visiting display homes can give you an idea of room sizes and what floor plans look like once built. Just remember, display homes are advertisements for builders so what you see may not exactly be what you get.
What are the benefits of single storey house designs?
More freedom in design.
Because you don't need to worry about as many structural issues as you do with other designs, single storey house designs are more flexible when it comes to floor layout. This also makes them easier to design, easier to navigate once built and usually, floorplans will be cheaper. You'll also have the option of higher ceilings and wider hallways in your dream home.
While single-storey homes tend to be smaller, the space can be used more efficiently. For example, you won't have any room taken up by a staircase. A good single storey house design can make the most of natural lighting, allowing nature to brighten up your living space during the day.
Cheaper to build.
Less material equals fewer costs. They also tend to be easier to build, so construction expenses should be lower. They usually have a shorter construction time, as well. This will obviously depend on how big your home is and the property itself.
Cheaper to maintain.
It costs less to heat or cool a single-storey home than a double-storey house. Air-conditioning has become a part of modern living (especially in places like Queensland), and cooling one storey will cost a lot less than two. Also if your house is smaller, there's less wear and tear overall, fewer things that can break and will need to be fixed. Vacuuming and cleaning won't take as long either. While a bigger house may be tempting, think about how much space you really need. It could save you a lot of money and time in the long run.
More Accessible to Everyone
Single-storey homes are more accessible than any house with stairs. For anyone with mobility issues, the lack of climbing needed to get around in a single storey home will make life a lot easier. Consider whether you plan to stay in this home beyond retirement or if you plan to move again down the track. Also, keep in mind you're own preferences. If the idea of going up and down the stairs every day seems like a grind, that might be a sign you should stick to one level.
This is something to consider if you have toddlers. A lot of parents worry about the trouble roaming little ones could get into on stairs. Some parents find it easier to keep an eye on their kids if there is only one floor in the equation.
Easier to evacuate
Hopefully, this is never something you have to worry about, but single-storey houses are easier to leave in an emergency than a two-storey home, especially if the bedrooms are on the top floor.
Great for first-home buyers
For those looking to buy their first property, a small, single storey home, will be among the more affordable options out there. A lot of first homebuyer options given by builders (such as Metricon's HomeSolution range) have a selection of single-storey homes at a lower price. The cheapest house and land packages tend to be single-storey houses on smaller blocks (or in less in-demand suburbs).
What are the disadvantages of single-storey homes?
Less House Area
Because everything has to be on one layer, chances are single-storey homes will have less house area than a multi-storey home. Whether this is a pro or con will really depend on how much space you need. A smaller house area means smaller or fewer rooms. Consider the other end of the scale as well: how many rooms do you really need? Depending on your layout, you may still be able to have generous bedrooms and a quality living area in a single storey home.
The size of land really determines how big your house can be. The footprint of your house is the size of the house. Muli-level designs can get more house area from small blocks of land.
Less Land Leftover
The downside of single storey homes is the amount of land they take up. Your lot width will dictate how big your house is more than it would in other designs. This could impact the remaining land you have for landscaping, a backyard for the kids, or a swimming pool.
Less privacy.
Single-storey homes don't offer the same buffer zones between living spaces that double-storey houses do. It's more difficult to separate bedrooms and living areas when you only have one floor. It also offers less privacy from your neighbours if you're building in a suburban area.
May have a lower resale value.
This depends on a lot of factors, but two-storey homes appeal to families looking to buy. Larger houses tend to have better street appeal than smaller homes which may affect the price you'll get. Also, people looking to buy up may avoid smaller, single storey homes. Resell will depend on other things like location.
Are single storey house plans cheaper to build?
Whether single-storey home designs are cheaper to build depends on a few factors, including what exactly you're asking. If you're comparing a single storey house and a double-storey house with the same footprint, the single storey will be cheaper. If you're looking at the same house area, however, the double-storey could be the cheaper option, as you won't have to buy as much land and can achieve more on a small lot width.
Construction costs are likely to be lower on a single-storey house as they are less complicated to engineer than a double-storey or split level design. Again, there are variables here like what your foundation is like and how accessible your property is.
When choosing your home, think about how much your new home will cost to maintain after you've built it. Single-storey homes, on the whole, are likely to be cheaper as there is simply less upkeep.
If you're looking at house and land packages, single storey options are on average cheaper if both options are in the same area.
There isn't a simple answer as to whether a single-storey or double-storey home is better value for money. The best thing to do is to weigh up the pros and cons of both and decide which best suits you. Why not look into the pros and cons of double-storey homes as well by clicking the link below?
Where can I build my single-storey house?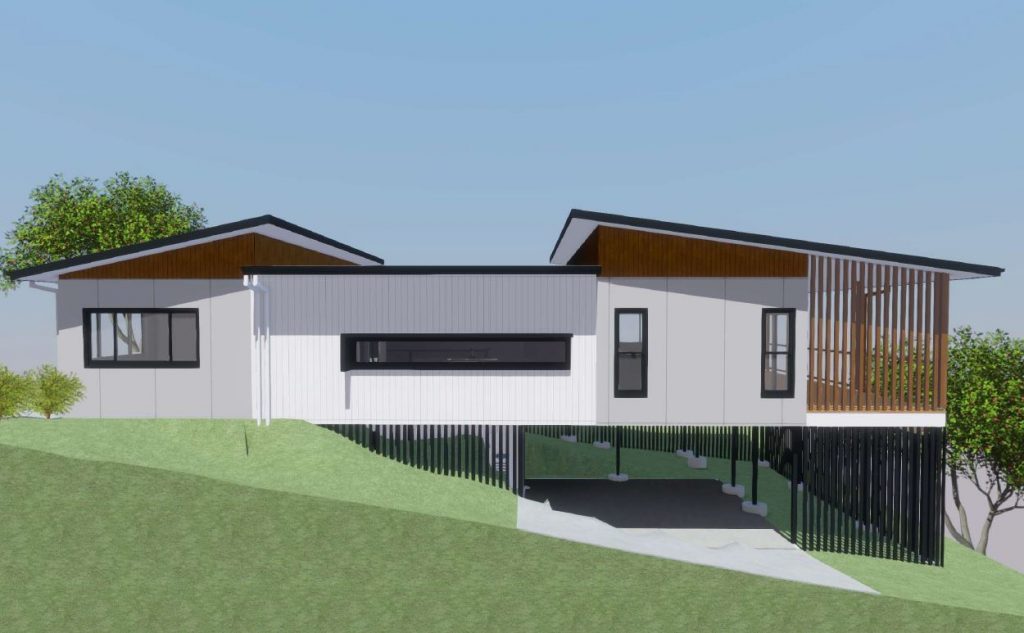 Single storey homes are the most common homes you'll see and can be found pretty much anywhere. They're best built on flat land but can be built on sloping blocks as well, though this may have complications. If you've bought a sloping block, you may want to consider building a split level house.
Compare Specialist single storey Home Builders
One of the biggest decisions you'll make when you create your dream home is which builder you'll go with. To give you an idea of who is out there, here are a few of the new home builders in the Brisbane area. Each has single-storey display homes in the Brisbane and Sunshine Coast areas for you to visit. Most offer house and land packages as well as designs. Buildi has also done Builder Reviews on all the builders listed, so click on the provided links to get more information, tips, and our honest opinion.
Brighton Homes
Brighton Homes is backed by the MJH Group company and builds homes across South East Queensland and Northern New South Wales and Hunter Valley. The single storey designs in their collection often have a nice flow throughout the home.
Coral Homes
Coral Homes was founded in 1990 in Varsity Lakes on the Gold Coast. A real volume builder, they build around 300 homes per year. They have some affordable options and a wide range. Another plus is the sheer amount of display homes they have around South-East Queensland, so it's easy for you to check out their craftsmanship and see if they're for you.
Or
Dixon Homes
Click here to read our Builder Review of Dixon Homes
Dixon Homes is one of the biggest names in the building industry. As their motto 'More 4 Less' suggests, they prioritise and promote their affordability (in our Builder Review, we look at the pros and cons of this approach). They're also a franchised company, so different locations will have different teams and possibly different approaches. Better suited for those looking to build on a budget. On the plus side, they do have a wide range of single-storey designs and are less expensive than other builders.
G.J. Gardner Homes
Link to G.J Gardner Homes here
Well known in the Australian building market, G.J. Gardner Homes has franchises across the country. Like Dixon Homes, this means that each franchise will be unique, and some branches have better reputations than others. They have a wide range of floor plans and single storey house and land packages.
Hallmark Homes
Hallmark Homes South-East Queensland based builder with 39 years experience to their name. They only offer single storey designs with options for both narrow lots and acreage lot width. This focus on one level homes, along with some good entry-level prices, make them worth looking into if you're thinking of building a single storey house.
HOMES by CMA
HOMES by CMA is a family-owned, Brisbane based company. They offer to build custom designs for those who wish to create their own floorplan for their new home.
Metricon Homes
Metricon Homes is one of Australia's largest builder and have a wide collection of single-storey designs to browse online. They've also got a few ranges (HomeSolution, Freedom, Designer, Signature), so there are single-home options for a variety of budgets. While it is easy on their website to search home designs, they don't offer an estimated cost of floor layouts. They do have a service called Studio M, which will give you decorating advice.
Building a home can be a daunting process. At Buildi, we work with you throughout the entire build process to avoid any pitfalls and make sure your house build stays on time and on budget by following these simple steps
Free Consultation – We will sit with you to understand what you are looking to accomplish.
Due Diligence – We work with you to ensure you're buying the right block of land at the right price without hidden problems.
Builders tender – We will take your requirements out to the market of builders and they will bid to win your business.
Present solutions – We will compile the top 3 options and present you with a comprehensive proposal on builders' strengths & weaknesses along with prices and specifications.
Contract Signing – We will work with you and your selected builder to ensure there is full transparency in what you are entering into.
Building your home – We work closely with the builder to ensure all service levels are met and your project is on schedule.
We help find you the right builder for your home build. Contact us today!